If you are a frequent traveler, you will understand the problem of carrying an adapter for every country you visit. A Swiss company recognized that problem and came up with such a simple yet ingenious solution which made many wonder why they had not thought about this before. The Skross world travel adapter 3 is the ultimate travel companion if you are traveling from one country to another frequently.  This adapter can be used in virtually any country and with a plug made any where in the world.
Movable Plug Pins
Skross has designed this adapter in such a way that you can draw out only those plug pins that work in the country you are in. There are movable sliders on the side of the adapter which will allow you to slide the corresponding pin. For example, you will have to move the first and fourth slider if you want a plug which can be used in the United States of America. Note that this is the part which will go into the receptacle at the plug point. Similarly, you will have to draw out a combination of sliders for different countries.
Universal Plug Point
Once you have plugged in the adapter in the plug point receptacle, you should connect the plug of the device you intend to use. The back part of the adapter features a universal plug point. It has been designed in such a way that a socket of any form, from any country can be plugged into it. You can see a picture of it online to get a better idea of how it will look. To ensure that nothing gets into these slots when the adapter is not being used, you are provided with a cap which can be used to protect it.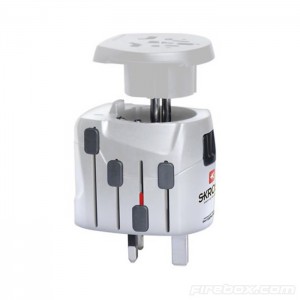 Safety
The device has been designed in such a way that you will not face any problems like shorting of connections or lack of connection, which is a common problem in travel adapters. There is no fear of other pins interfering with the pins you are going to use, as the connection between the front and back of the adapter is done using a 2-pin plug. This makes it not only convenient, but also very safe to use.