Droves of visitors come to Blackpool year round to sample some of the local delights and view the one-of-a-kind Blackpool Tower. Here is a brief guide to some of the must-see attractions currently on offer in Black-Vegas!
Blackpool Pleasure Beach
This famous family theme park will titillate the whole family for as many days as you care to spend there. The historic rollercoasters, including the Wild Mouse, the Revolution, the Big Dipper, Infusion, and the Pepsi Max Big One, will leave thrill-seekers of all ages thirsty for more! Popular for more than a century, the fun-filled atmosphere, the short lines, and the resonating sound of happy screaming have established Pleasure Beach as the premier theme park in England.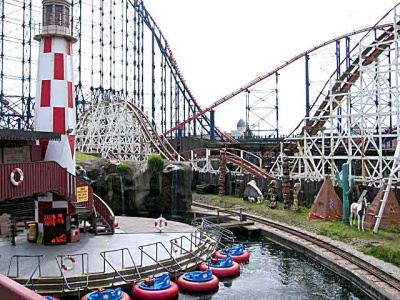 Blackpool Tower
If you're looking for an enormous tower and excellent views of the nearby area, you will love the fun-packed Blackpool Tower. Don your dancing shoes on and enjoy a slow waltz in the beautiful Ballroom, then unleash the kids in the generous Jungle Gym to burn off some energy. Before you leave, take a climb to the top of this magnificent tower, and scan the beaches, the people, and the coasters below.
Blackpool Illuminations
Before you sample the local casinos, you might want to take a ride on one of the illuminated open buses or trams to view the spectacular illuminations. The glitz and glamour of over a mile of dazzling light shows will delight kids and adults alike. Especially around Christmas time, the lights are a popular attraction – just be sure to dress up warmly.
Blackpool Casinos
The magnificence of Blackpool's luxurious casinos certainly rivals anything Las Vegas has to offer. The Circus Casino, the Paris Casino, and the G Casino are easy to access from town and make for an enjoyable evening. If you've spent the day negotiating Pleasure Beach theme park, there is no better way to wind down than by hearing the ching-ching of the jackpot!
Blackpool offers a vast array of activities, ranging from the serenity of the beaches to the non-stop thrills of the rollercoasters. Be sure to budget your time wisely or even consider an extended stay to allow you ample time to fully appreciate the attractions of this Vegas-like party city!